ON DISPLAY
Halifax County in a World at War
26 April 2017 – 30 September 2017
Please see the description of our permanent exhibits to get a better idea of what the museum currently has to offer.
Permanent Exhibits
The William M. Tuck Exhibit
The Abbyville Collection
The Military Exhibit
The Country Store
The Pioneer Medicine Exhibit
The Map of Halifax County
Halifax County's Rail History
Coming Soon
A History of Tobacco in Halifax County
The Rev. Penick Wagstaff Collection
Be sure to check out our new permanent exhibit
Halifax County's Rail History
Slide-show Talk and Book signing. Author Joe Tennis of Bristol, Virginia, is conducting a reading, showing slides and speaking on "Virginia Rail Trails: Crossing the Commonwealth from Beach to Bluegra [...]
VIEW MORE
Longtime resident Tomoko Gillespie will conduct the grand opening of her new art exhibit at the South Boston - Halifax County Museum.  A selection of more than two dozen works on canvas will be on dis [...]
VIEW MORE
Southside Master Gardener Association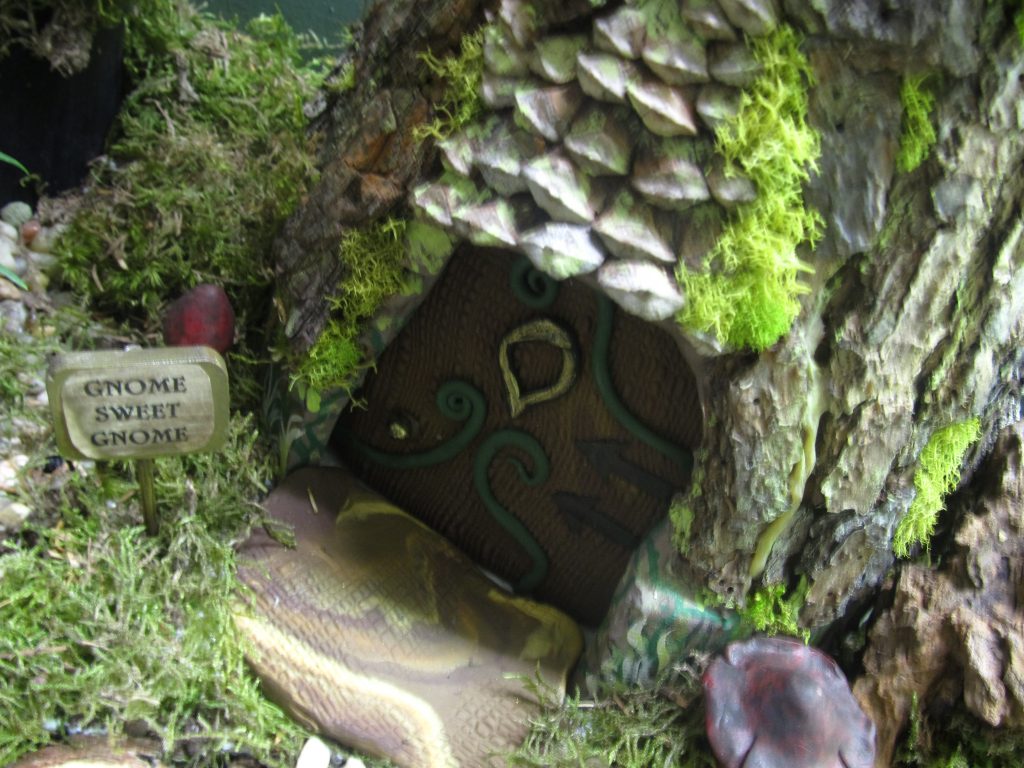 Fairy Gardens
14 June 2017 – 1 July 2017
The Southside Master Gardener Association hosted a Fairy Garden Contest at the Halifax County Farmer's market on June 10, 2017. Several of the contestants, young and old, participated in the contest. Dozens of gardens were entered and several were recognized for their creativity.
The idea of creating fairy gardens is to dream up a setting that tells the story of an enitre world in a small garden where little creatures have taken up residence. Old boots, gardening tools, ribbon, and other common household items can be used. The possibilities are endless! The featured gardens could be of any shape or size as long as it could be placed on the judging stands or tables.
Come and see a small sampling of the wide variety of styles and stories that can come from a little creativity and many plants.
Pottery
19 April 2017 – 17 June 2017
Former native of Halifax County Robin Cage, who owns and operates the pottery and craft gallery, is usually up to her elbows in clay in her studio, the 43rd Street Gallery, located in Richmond Virginia.  Her featured line of functional stoneware pottery utilizes subtle tones and designs. Robin also hosts six-week long pottery classes in her place of business. With over 30 years of pottery experience, Robin was recently awarded ACV's designation as Virginia Master Artisan.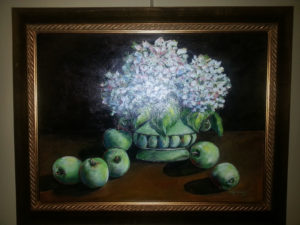 Arcylic on Canvas
1 June 2017 – 8 July 2017
Betty Puryear Caldwell, artist and art educator, lives in South Boston, Virginia, with her husband Jack. After completing her B.S. degree in Art Education at Radford University, she taught art PreK-12 at Halifax County Public Schools for thirty-one years at Bethel Hill Charter School for five years Kindergarten thru 6th Grade. Now fully retired, Caldwell is concentrating primarily on abstract and non-objective art using acrylic paint as her medium. She finds color, texture, line, and form to be the most important elements in her work at this time. Caldwell states that: "a non-objective painting has to speak to me through colors and form while creating depth of texture. Sometimes it's hard to tell when the painting is finished, so I place it on the mantle for a few days and study the composition and colors. Getting lost in the painting is the best part of the painting process because I rarely start with an object in mind. Images seems to come to life as I paint from my imagination. Also, when people look at my work, I want each person to see something different, and if they do, I have accomplished my mission."
12 July 2017 – 12 August 2017
Tokyo native, Tomoko Usami Kress Gillespie, is both a skilled artist and violinist who is dedicated to her work. Her love of painting began in 1999 when she took a three-month long class for basic brush painting.  Since her introduction to painting, Mrs. Gillespie has been mostly self-taught; although, she says the best teachers are visits to art museums and attending art book studies. She uses the funds from her art sales to help children who have suffered from natural disasters, earthquakes, tsunamis, and war.
Mrs. Gillespie hold a strong desire to facilitate cultural, musical, and arts exchange Programs between the U.S. and other Nations including her native Japan.  After her music instructors expressed an interest in performing in Japan, Mrs. Gillespie arranged a highly successful tour of Japan where the group performed at several concerts. Following the success of this unique experience, Mrs. Gillespie founded Appalachian Dream Inc. in 2014 with the hope to continue to provide maintain this cultural exchange.  Now, Tomoko Gillespie will display her works on canvas which include a wide variety of still-life subjects.
June 23, 2017
Come check out our gift shop for big savings on 4th of July weekend and the following week!
Read More