ON DISPLAY
No temporary exhibits are currently on display. Please see the description of our permanent exhibits to get a better idea of what the museum currently has to offer.
Permanent Collection
The William M. Tuck Exhibit
The Abbyville Collection
The Military Exhibit
The Country Store
The Pioneer Medicine Exhibit
The Map of Halifax County
Coming Soon
A History of Tobacco in Halifax County
Halifax County's Rail History
The Rev. Penick Wagstaff Collection
Upcoming Events
On April 11th, 12th, and 13th, the museum will be hosting the Virginia World War I & II Commemoration Committee's Profiles of Honor Mobile Tour here in South Boston. The Profiles of Honor is a mob [...]
VIEW MORE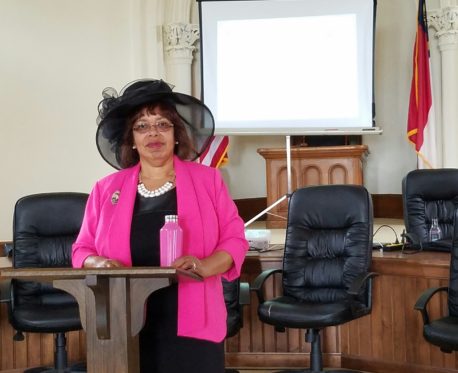 Women of the Confederacy Lecture Learn about the cultural and domestic changes that women of all ages and backgrounds experienced while living in the Confederate States of America during and after the [...]
VIEW MORE
N. Diana Thorpe
Diana Thorpe's goal is to encourage her viewers to hear the birdsong and the distant thunder; to feel the movement of the wind and the warmth of the sun; to see the clouds dance across the sky; to wonder what has caught the bird's attention. Thorpe endeavors to capture a moment in time to be experienced whenever her work is viewed. Her paintings are created to help others see things around them that might otherwise go unnoticed.
Drawing and painting have been lifelong interests of Thorpe. She began sketching at the age of seven before taking up painting at the age of 14. In college, she took a number of art-related courses covering a variety of drawing and painting styles. After college, she studied with a number of professional artists to further hone and polish her skills.
Moved by the beauty of the world around her, Thorpe is naturally drawn to the representational painting style. She enjoys painting a variety of subjects, but she is especially inspired by color and movement.
In addition to creating works of art in acrylic, watercolor, and oil, Thorpe also produces greeting cards and prints depicting her vibrant style.
Since relocating from Richmond in 2009, Thorpe has resided in Charlotte County with her husband, Dr. Curtis W. Thorpe.
December 29, 2016
For the past eighteen months, a major goal of the museum has been to redesign and launch new website for...
Read More